Font Finagler 2.0.3
Version 2.0.3, September 26, 2023
Copyright © 2004-2023, Mark Douma. All rights reserved.
Download
FontFinagler2.0.3.dmg (13.2 MB)
OS X 10.9 (Mavericks) or greater
Download
FontFinagler2.0.3.dmg (13.2 MB)
OS X 10.9 (Mavericks) or greater
Product Description:
If you're having problems like in the image below, it could be caused by corrupt font cache files. What appears to be happening is that incorrect or corrupted encoding vector information is being used when mapping the character codes as input by your keyboard to the glyphs they represent in the problematically cached font.
An example of garbled text
You can use Font Finagler's Font Cache Cleaner feature to purge these cache files in an attempt to restore normal behavior, and to help rule out a font cache corruption as the sole cause of the problem. If, however, you use Font Cache Cleaner but the problem remains, then it could be caused by a font conflict, by a corrupt or less-than-ideal-quality font, or by an underlying OS X font-handling bug. Try removing fonts to isolate the problematic fonts that are causing this behavior.
---
Trusted by thousands of customers including:

---
New in Font Finagler 2.0:
Font Cache Cleaner is up to 5 times faster than in Font Finagler 1.5.
Search and clean for all users simultaneously.
Font Cache Cleaner is both more secure and more convenient.
Support for OS X 10.9 (Mavericks) through macOS 12 (Monterey).
Adds support for all the latest versions of Adobe Creative Cloud apps, QuarkXPress, and Microsoft Office.
Adds support for Apple Silicon Macs, Retina displays, Dark Mode, and more.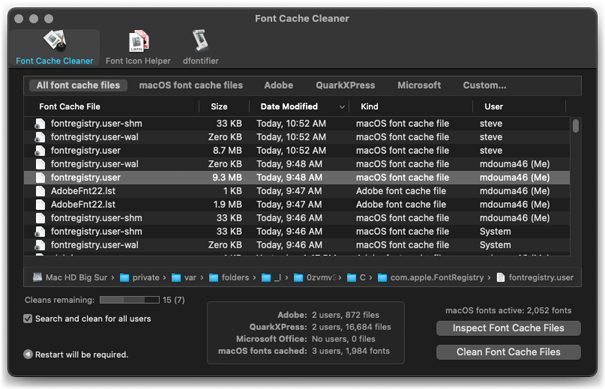 ---
Font Finagler is:
Font Cache Cleaner
Fonts misbehaving? Cleaning the font cache files can be a great first step in troubleshooting font problems. Font Cache Cleaner makes it easy to target the specific types of files that might be causing problems.
Font Icon Helper
Font Icon Helper makes dealing with PostScript Type 1 fonts in the Finder easier by changing their icon to a reddish one, reminiscent of the red PostScript A icon,

, that was used in OS 9 and earlier. This helps make the 2 parts of PostScript Type 1 fonts, the font suitcase and the outline fonts, easily recognizable even at a quick glance.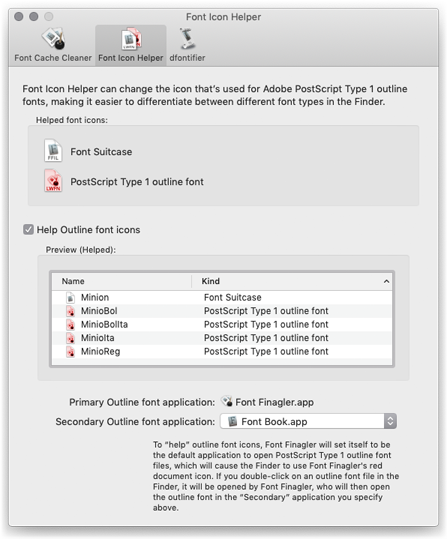 Before Font Icon Helper.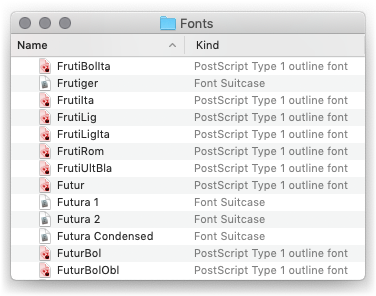 After Font Icon Helper.
Problem Fonts
When you launch Font Finagler, it automatically checks the active fonts on your Mac, and if it identifies any that are known to cause problems, such as Helvetica Fractions or Times Phonetic, it'll alert you of this. It provides details and helps walk you through deactivating these fonts so you don't have problems.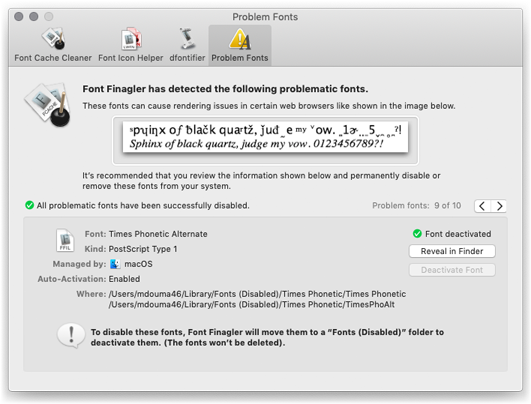 Command Line Interface
Advanced users or System Administrators can access the cleaning capabilities of Font Finagler from the command-line. For example, create a scheduled launchd job to run finagler during off-use hours to clean the font cache files and then restart the computer.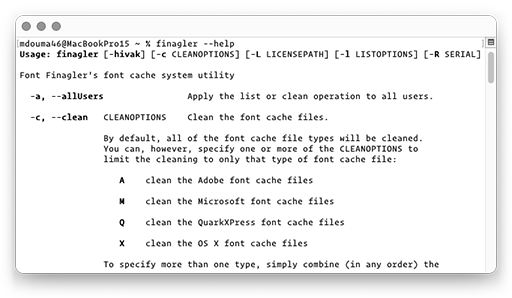 ---
License & Registration:
I've created Font Finagler as "shareware", meaning you can download and try it out for free, and, as long as it's the same as the latest version available on my webpage, can freely share a copy of the software with others.
For unregistered users, some of the features in Font Finagler are always available, while others can be used a limited number of times. You can use the Font Cache Cleaner feature to clean a combination of the font cache files up to 20 times. After that, you'll need to register (purchase a license for) Font Finagler to continue using it. My assumption here is that if you've used it that often, then you've most likely found it useful and, therefore, ought to register it.
For more information on purchasing a license for Font Finagler, click the purchase button above.
If you have any questions about pricing, feel free to contact me (see the Support section below for contact information).
Font Finagler is "shareware", meaning that it is freely available over the internet or under other conditions described in the included ReadMe.rtfd, subject to certain restrictions of functionality and/or a periodic reminder to pay the "shareware fee". Should the user wish to remove these restrictions or reminder, the "shareware fee" may be charged under the conditions indicated in the included ReadMe.rtfd in exchange for a "license file" transmitted to the user. The user must treat this "license file" as confidential and not sell, transmit, or reveal it to any other party. This fee may be refunded only if the user demonstrates, to my satisfaction, that entering the "license file" into the latest version of Font Finagler, as published on my website, does not remove the restrictions. I reserve the right to disable, without notice, any "license file" published on a website or otherwise made available to anyone but the original user.
Support:
If you have a question or concern regarding Font Finagler, feel free to email me at moc.amuodkram@kram.