Upgrading Font Finagler
If you're an existing Font Finagler 1.5 customer, you can upgrade to version 2.0 for $12.50 USD per license.
By far, the easiest way to upgrade your license from Font Finagler 1.5 to 2.0 is to download Font Finagler 2.0, launch it, choose "Register Font Finagler" from the application menu, and click on the "Upgrade from Font Finagler 1.5" button like shown in the image below. Font Finagler will automatically handle directing you to my web store where you can purchase the upgrade.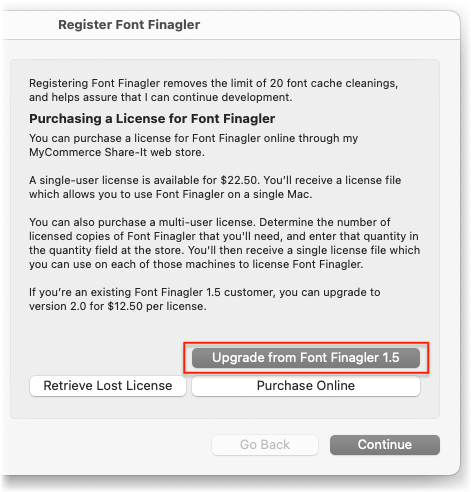 Alternatively, you can upgrade from Font Finagler 1.5 to 2.0 by entering your Font Finagler 1.5 serial number below:
Locating Your Font Finagler 1.5 Serial Number
To find your serial number for Font Finagler 1.5, launch it, then choose Font Finagler > About Font Finagler to open the About window like shown in the image below. As you can see, the last 4 digits of the serial number are initially blocked out with ••••. If you click on the serial number, it should reveal the full serial number, which you can then select to copy and paste in the field above. (If this is not working, be sure to download the latest version of Font Finagler 1.5).
Forgot your serial number or lost your license? Head over to Font Finagler - Lost License.